We Can Handle All Your Printing Needs

We Are A Custom Label Manufacturer
Specializing In Labels Since 1976
Over 40 Years Of Experience
Quality, Service, With On Time Delivery
We Can Handle All Your Printing Needs
We Are A Custom Label Manufacturer
Specializing In Labels Since 1976
Over 40 Years Of Experience
Quality, Service, With On Time Delivery
Welcome To National Data Label
We have built a relationship of trust with some of the largest and best known companies in business today.
We pride ourselves on our ability to create the very best solutions for your packaging and labeling needs.
Looking For A Quote?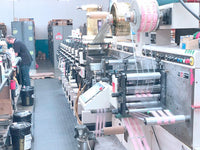 Our Mission
To help you solve all your Printing and labeling needs.  We strive for Quality, On Time Delivery, and Service.
Packaging & Labeling Needs
DIGITAL LABELS
A type of pressure-sensitive label made using cutting-edge digital printing technology
Allows label manufacturing to be of the highest quality with impressively quick turnaround
About Us
Founded in 1976, National Data Label prides itself on being a state-of-the-art custom label manufacturing company.
What We Do
We excel in products, service and capabilities.  We have many presses that can accommodate various types of labels  and from small to large quantities.
Why Us
We have highly qualified pressmen, production staff, and an experienced sales team. With years of experience, we can meet your labeling needs.
Get In Touch
301 Arthur Court, Bensenville, IL 60106
P: (630) 616 9595